Traditional Medicine
Traditional Medicine
L.Pro
8885004453081
80 vegicaps
(80 vegicaps)
303.92
VIP (Buy 1 Save 20%)
RM303.92
RM303.92
VIP (Buy 2 Up Save 25%)
RM284.93
RM284.93
VIP Buy 2 Free 2, Use Code: LPPD
Usual price
Add 4 units to cart
Limited 2 sets per VIP
Same Item Only
VIP Storewide 25% off for 1, 35% off for 2 & up
Usual Price
Unlimted set
Except Sport, Foodstuff, RTDs, bars, LAC Minis, Honey
This promotion is not applicable to Support your health promotion
Check availability at retail store
Local Delivery
LOCAL DELIVERY WITHIN Malaysia
Free local delivery for orders above RM200 within Malaysia.
Delivery cost is incurred to the order(s) with value less than RM200*. The charges as below:

| Region | First kg (RM) | Following kg (RM) |
| --- | --- | --- |
| West Malaysia | 7.5 | 1 |
| East Malaysia | 15 | 13 |


* Note: Protein products are excluded from Free Delivery terms.
Delivery timings are between 9am and 6pm. Mondays to Fridays and 9am to 12pm on Saturdays(excluding Public Holidays).
Product Overview
Servings per Container
Up to 40
Product Description
The liver is one of the most crucial organ that performs functions vital to life such as processing nutrients from food, producing bile and building protein. It also acts like a filter, and is responsible for removing alcohol, chemicals and other toxins from the body.

Protect your liver
Heavy alcohol consumption is one of the major health hazard that may damage your liver and lead to various liver conditions.
Low fat diet junk food and high-fat meats contain high levels of trans and saturated fats, which could build up in your liver. Thus, taking a healthy diet is very important to maintain healthy liver functions.
Quit smoking smoking is harmful to virtually every organ and cell in the body. The chemicals in cigarette and cigarette smoke contain poisonous carcinogens and toxins that are severely harmful to the body. If you smoke, resolve to quit now.

LAC L.Pro, made from carefully selected traditional Chinese herbal preparations (TCM), is beneficial in promoting blood circulation and liver health. LAC L.Pro is an essential supplement for maintaining a healthy liver.


Formulated with Traditional Chinese Medicinal (TCM) herbs to promote liver health
Soothes the liver & promote blood circulation
Health supplement for adults, who

high-fat diet
sedentary lifestyle
heavy medication
Adult take 2 to 4 capsules daily with warm water after meals.
Key Ingredients
White Peony Root
White peony is a flowering plant where its root has been used traditionally for women as a 'blood tonic' to nourish blood and regulate menses.
Hawthorn
Hawthorn fruit tastes sour and sweet and is traditionally used as a digestion aid.
Turmeric
Turmeric contains an active component - curcumin, a type of polyphenol is well studied for its anti-inflammatory and antioxidant properties.
---
| | |
| --- | --- |
| Radix Et Rhizoma Notoginseng (Sanchi) | 70mg |
| Rhizoma Curcumae Longae (Turmeric) | 152mg |
| Semen Cuscutae (Dodder Seed) | 152mg |
| Flos Chrysanthemi (Chrysanthemum Flower) | 152mg |
| Rhizoma Atractylodis Macrocephalae (Largehead Atractylodes Rhizome) | 152mg |
| Rhizoma Alismatis (Oriental Waterplantain Rhizome) | 120mg |
| Radix Paeniae Alba (White Peony Root) | 108mg |
| Folium Nelumbinis (Lotus Leaf) | 152m |
| Pericarpium Citri Reticulatae Viride (Green Tangerine Peel) | 88mg |
| Radix Paeniae Rubra (Red Peony Root) | 152mg |
| Fructus Crataegi (Hawthorn Fruit) | 232mg |
Indication: Traditionally used as liver tonic and improving blood circulation
Suitable for vegetarians
Storage
Store below 30°C. Protect from light and moisture. Keep out of reach of children. Jauhkan daripada kanak-kanak No known side effects.
Caution
Not to be taken while suffering from influenza, fever, during pregnancy and lactation. Patients with diabetes, kidney disease and other serious chronic diseases should consult a physician before use.
Contraindicated in pregnant women.
Safety of ginseng in lactating women and children has not been established.
Do not exceed the stated dose.
Safety on long term use has not been established.
Please consult your pharmacist or doctor before taking this product.
Content: 80 vegicaps, 1542mg/vegicap.
Allowed for sale as a Chinese Proprietary Medicine based on information submitted to the Authority. Consumer discretion is advised.
MAL13125027TC
KKLIU 1719/2021
This is a traditional product advertisement and This product is not a substitute for the avoidance of naxious agent that causes liver damage (e.g: alcohol)
---
Stay Inspired with Health Trends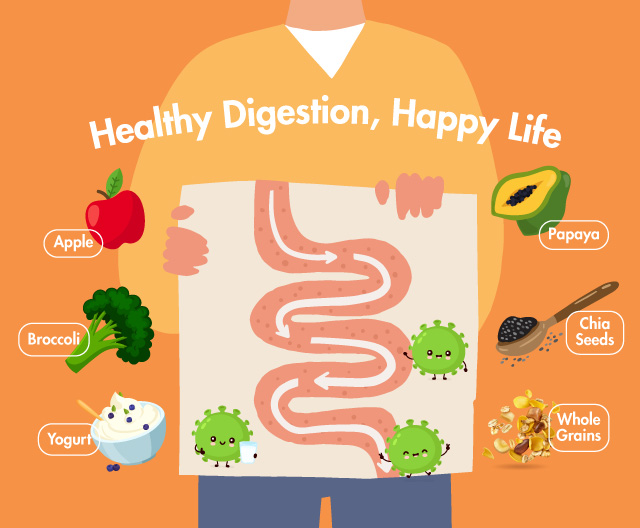 21 Jan 2022
Healthy Digestion, Happy Life!
Protect Your Digestive Health This Chinese New Year!
Specially Selected For You